Welcome to the ultimate selection of Europe's best luxury ski resorts, detailing everything you need to know – whether you are seeking the best mountainside apres entertainment, some of the most exhilarating off-piste skiing around, or a family-friendly luxury ski resort with award-winning dining and world-class ski schools.
European Ski Resorts
There's no doubt that Europe is home to some of the world's best luxury ski resorts.
Spanning from the Scandi Alpine slopes to the sweeping Italian mountain ranges, there truly is something for every kind of skier within European ski resorts. All you need is expert insight from us, knowledge that will guide and connect you to the perfect luxury ski resort for you.
SWISS ALPS
Switzerland ski resorts are some of the finest in Europe. Across the country's many luxury ski resorts, you'll find pistes for all abilities, from advanced off-piste skiers to beginners looking for gentler slopes. Ski resorts in Switzerland are also famed for some of the world's best apres skiing, as well as premium mountainside dining set against unmissable views.
At the Luxury Chalet Co, we're well versed in all Swiss ski resorts have to offer, and our portfolio features some of the best luxury ski chalets across the entire region.
ITALIAN ALPS
The magnificent Italian Alps are home to some of the world's best luxury ski resorts. Piste maps here are suited to all skiing abilities, with some of Europe's best ski schools found here too – ideal for beginners looking to begin their skiing adventure. Combine that with Italy's famous cuisine and charming alpine villages, and you have an ideal destination for the perfect luxury ski holiday.
At the Luxury Chalet Co, our luxury ski chalets in Italy are all exceptional homes, offering the utmost in comfort and luxury in an unforgettable setting.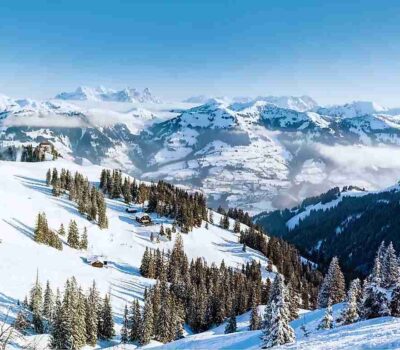 FRENCH ALPS
The expansive French Alps are perhaps one of the world's most popular luxury ski resorts, especially for those seeking the lively apres ski scene. Yet French ski resorts offer so much more than nighttime entertainment alone. Here you'll find some of the best snow in Europe, with magnificent piste maps accommodating for all range of skiers – not to mention unmissable mountain cuisine and fine French wine.
At the Luxury Chalet Co, our luxury ski chalets in France are premium properties equipped with all the luxury amenities you need for a sublime ski holiday in the magnificent French Alps.
AUSTRIAN ALPS
The Austrian Alps are found in the country's two westernmost states, and it's here you'll find several of Europe's best ski resorts. The region remains lesser-visited than its French and Italian counterparts, meaning prices here remain more reasonable and crowds are fewer. Pistes are well-kept with fresh snow likely, whilst the charming alpine villages offer the perfect post-ski dining and evening entertainment.
At the Luxury Chalet Co, our luxury ski chalets in Austria feature exquisite properties in premium locations across Austria's best luxury ski resorts.
Unsure Which Of Europe's Luxury Ski Resort Is Right For You?
Arrange a call with one of our expert advisors, and let us help connect you to the luxury ski resort best suited to you and your party.