Switzerland has a global reputation for exquisite quality and its ski resorts are no exception. Spectacular alpine scenery, world class skiing and charming village resorts have created an exclusive and indulgent winter destination. The Swiss Alps claim some of the highest peaks, creating a dramatic backdrop that will take even the most seasoned skier's breath away. A high altitude guarantees a long season and great snow cover. Many destinations have glaciers, making them completely snow sure. Skimming alongside international borders, resorts are filled with an assortment of nationalities and cultures. A stay in Zermatt even gives you the opportunity to ski to Italy for a prosecco lunch.
There is a reason that snow sports lovers continue to return to Switzerland. With vast ski areas offering an array of well-groomed piste, there is plenty of choice to keep mixed ability groups happy. Beginners benefit from fun and engaging nursery slopes, as well as highly competent instructors. Intermediates will feel spoiled for choice in almost every resort, with a great variety of long blues and easy reds to build up confidence. Experts seeking a challenge can easily find some tricky terrain. There are also several famous blacks for you to tick off your bucket list. If you have ever considered hiring a guide, this would be the perfect time to do so, with some world renowned off piste at your fingertips.
Fast transport links and modern lifts make it easy to explore villages and ski areas. The exceptional rail network will make your transfer into resort a seamless experience. Train journeys from Geneva to the mountains are among the most beautiful in the world. Gaze out across glaciers, valleys, and lakes as you anticipate your ascent into town. Villages are brimming with charisma. Pedestrianised cobbled streets are lined with an intelligent combination of traditional alpine architecture and modern Swiss style. Thanks to a strong mountaineering heritage, you will be walking through living history, with authenticity at every turn. Stop for a hot chocolate in a chic café, before browsing exclusive boutiques and authentic artisanal stores.
As the sun sets, towns come alive with gourmet restaurants and lively bars. The Swiss alps attract an international crowd and affluent clientele, so expect impeccable hospitality. The home of many alpine favourites, you will find endless opportunities to feast on fondue and rosti in cosy mountain lodges. Enjoy fine dining at high altitude, with many gourmet chefs
recreating the traditional mountain meal as innovative haute cuisine. Nightlife ranges from uber chic to cosy and intimate. While more reserved than most French resorts, après ski is friendly and offers good natured fun. On offer are cosy pubs, glamourous night clubs and plenty of boot stomping mountain bars. If your focus is to party, Verbier, Zermatt and St. Moritz are the favoured three.
Switzerland's love of wellness, healing and relaxation has made their spa culture iconic. Whether you are dreaming of infinity pools with immense mountain backdrops or craving an expert restorative treatment, a Swiss spa day is a rite of passage. Sit back and enjoy an afternoon of carefree bliss. Vibrant towns offer plenty to do for the non-skier. Most resorts have a sports centre and ice rink, and there are lots of other winter activities on offer. Get your adrenaline fix with ziplining, husky sledding and tobogganing. Historians will be intrigued by agricultural heritage, mountaineering history, and the rise of winter tourism, documented incmuseums and landmarks throughout.
Swiss resorts are a favourite of celebrities, royalty and the super-rich so quality of accommodation reaches soaring standards. There is often a focus on chalets blending in or complimenting the existing aesthetic. Expect to see innovative design with traditional architecture intelligently woven through. Interiors are luxurious, often thanks to some of Europe's best designers. Expect modern fittings with warm and homely touches, as well as exceptional entertainment and wellness facilities. Additional features such as bowling alleys, bio saunas and cinema rooms make Swiss chalets a great option for the whole family.
However, it is what is outside that is always the centre of attention. Appreciation of stunning surroundings is demanded at every turn, with large outdoor living spaces and floor to ceiling windows. End your day of alpine adventures and Swiss indulgence on the private terrace. Gaze at the stars sparkling above the mountain peaks and the lights of the village twinkling
below while sipping champagne in your heated whirlpool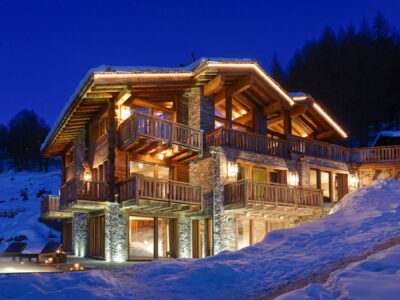 Zermatt Luxury Chalets
An authentic town, snow sure slopes and the majestic Matterhorn. Skiing here offrs scenic highlights at every turn. This is a cruising resort for all abilities but is the epitome of exhilarating off piste itineraries.
The town has a quaint, old world feel. Cobbled, car free streets are filled with horse drawn carriages and café terraces. Wander down the Bahnhofstrasse and shop an exquisite selection of brands and boutiques. Savour Michelin star food from the culinary hot spot of the alps. Or plunge headfirst into the glamourous après ski, with a great live music scene and plenty of trendy bars.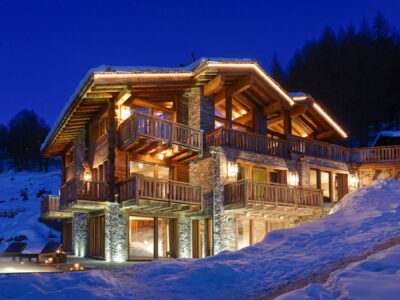 Verbier Luxury Chalets
Verbier is a favourite among experts, but this immense ski area offers something for everyone. Endless slopes and accessible back country make Verbier the ultimate resort to push your limits.
Verbier has an art of bringing together Swiss originality, intense snow sports lovers and a laid-back cosmopolitan crowd. This is the place to be seen for the uber cool seeking alpine chic. Nightlife is vibrant and features some of the most iconic clubs in the alps.
It is a magnet for luxury chalets so expect a multitude of choice and some of the most decadent homes in the alps.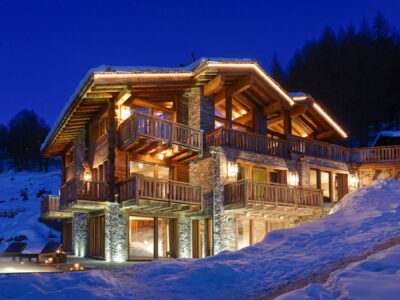 Gstaad Luxury Chalets
The original resort for those aspiring to alpine glamour. The ski area is idyllic and perfect for a wholesome family break. Thanks to the glacier, you can enjoy a long winter season with
great snow.
The preference of royalty and the superrich, Gstaad approaches everything with an understated elegance. Shopping is fantastic, ranging from high end boutiques to local artisan products. There is an abundance of gourmet food, whether you crave hearty mountain classics or innovative fine dining. And après ski is sophisticated but with a few fun and quirky
independent bars.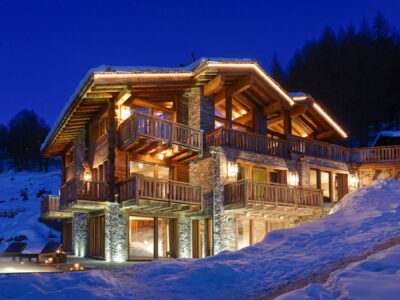 St Moritz Luxury Chalets
Even without the outstanding skiing, the exclusive St Moritz is a destination all on its own. Resting in the heart of a frozen lake district and surrounded by 4000m peaks guarding the Italian border, this is truly splendid alpine scenery.
St Moritz is popular for fantastic powder, modern lifts and a diverse ski area. There is ample snow, but the sun is almost constantly shining. Feast on an indulgent mountain meal on the terrace of one of over 30 mountain restaurants. Iconic among the superrich, this is a resort for extravagance. Expect glitzy nightlife, abundant shopping and opulent spas.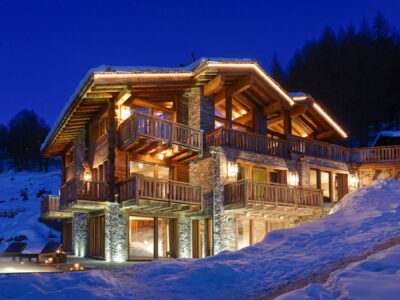 Crans-Montana Luxury Chalets
If you seek breath-taking views and idyllic mountain scenery, Crans-Montana is a crowd stopper. Panoramic views of Mont Blanc and the Matterhorn stretch across the Rhone valley below.  Explore 140km of uncrowded piste with a fast and well connected lift system. The diverse ski area offers something for everyone, and a summer golf course is transformed into a winter  wonderland where beginners can have an unusual start to their skiing adventure.
Relax back in a sunny town centre on the terraces of the many cafes and bar. Shopping is plentiful and a must visit for fashionistas, who will find the best international brands.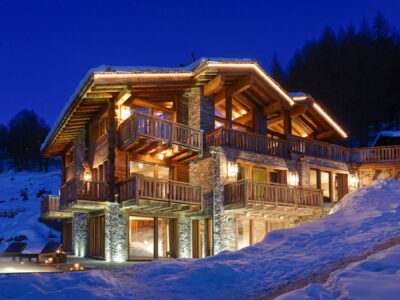 Andermatt Luxury Chalets
Andermatt went from Switzerland's best kept secret to one of the alps' most up and coming resorts. Make the most of uncrowded piste and untouched snow while you can. Infamous among advanced skiers for many years, recent regeneration has transformed the ski area to attract a wider range of abilities.
The town rests in the Urseren Valley with a river running through the centre. It has maintained its original character despite the recent boom in development. Wander along pretty streets and stop at one of many bars. Or take a ride on the one of a kind après ski bar train.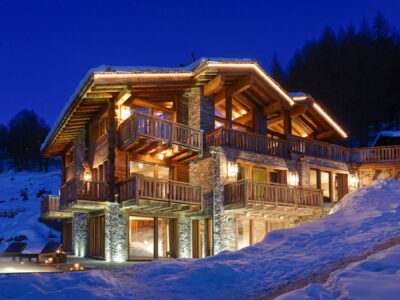 Davos Luxury Chalets
The highest city in Europe, Davos offers abundant shopping, apres ski and entertainment. Non skiers can enjoy casinos, museums, art galleries and Europe's biggest natural ice rink. There are areas to stay that suit all tastes, whether you want to relax and unwind, or be right in the centre of the action.
The ski area is sprawling but linked by a regular bus service. Five different mountains give you a new place to discover each day of the week. Cruise down endlessly long pistes, starting from snowy peaks and stretching all the way down into the tree lined valley.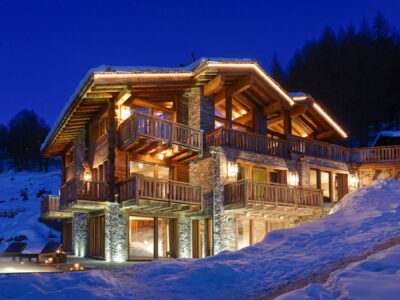 Saas Fee Luxury Chalets
Visitors will have a pure Swiss experience in this beautiful town. Traditional chalets and farms houses are sprinkled throughout a car free village. Terraces sprawl out across the main street, the perfect place for sunset drinks after a fun packed day on the slopes. Foodies will love the great food scene with cosy alpine specialties and a good selection of fine dining.
Surrounded by 4000m peaks, including the immense Dom, this is a resort for mind blowing scenery and excellent snow conditions. Wide open piste overlooking stunning surroundings make for relaxing and refreshing days of exploring.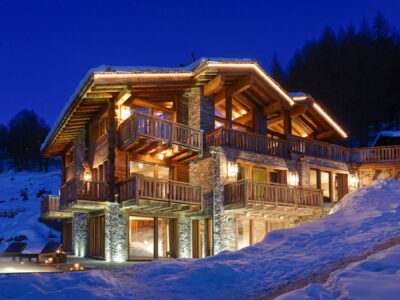 Grindelwald Luxury Chalets
With dramatic views of the Eiger and access to the ski areas of Grindelwald, Wengen and Mürren, there is plenty of pisteto inspire and delight. A winter break here feels incredibly idyllic. Carve your way across slopes lined with trees and a traditional cog railway.
Appreciate a destination full of originality and character. With picturesque cobbled streets and a lively nightlife scene, the town centre has a wonderful ambience that makes it perfect for a sunset stroll.